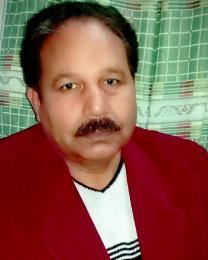 Matthew Bernard, popularly known as Matthew Mohsin  in the Urdu and Punjabi literary Circles throughout Pakistan, is a prominent Christian Urdu and Punjabi poet, writer and a literary critic. He was born on 29th May 1967 in Faisalabad in the household of Choudhery Sardar Masih, himself a prominent social and Human Rights activist and president of St. Vincent De Paul Society, Cathedral, Faisalabad.  Matthew Bernard studied at Sacred Heart Convent High School (English medium) and La Salle High School in Faisalabad and exhibited a promising literary talent very early in his educational journey. In fact his very first ashyar (rhyming verses) were written when he was in eighth class and were appreciated by his teacher Yousaf Parwaz, himself a significant name in the world of Urdu poetry. Matthew Bernard chose Mohsin* as his takhalus**, a name that has stuck well with him and now he is known as Matthew Mohsin throughout the literary world. 
Mohsin's poetry has appeared in various prominent national periodicals like Catholic Naqeeb, Shadab, Shalome, Tajdeed, City Mag and Bayaaz. He is a master of similes and metaphors and very skillfully uses these and other literary tools to convey his message. Even though he writes around common themes of love and loyalty, on deeper contemplation one can appreciate the similitude he draws between common personal experiences and shared communal pains.    His poetry has found favour with a large number of readers and has earned him a prominent place among the contemporary literary elite. He is currently serving as the President of All Pakistan Christian Writers Guild, and also of Qandeel-e Adab organization (Rawalpindi). Mohsin holds a memberships of St. Vincent De Paul Society and Halqa-e Adab (Rawalpindi).
His first book of Urdu poetry, Khazan ki Mohabbat, was published in 2014, and received some very glowing literary reviews. I believe it is a valuable addition to the corpus of quality poetry produced by Christian Urdu poets. His next book, soon to be released for marketing, Bahar ki Dushmani is also a collection of Urdu Ghazaliyat. Both of these volumes are an eloquent testament that Matthew Mohsin is an accomplished ghazalgo shair whose works will make a valuable addition to the existing corpus of quality literature produced by other Christian Urdu Writers and Poets. 
*Mohsin (Urdu) - n. one who does good to others
** Takhlaus (Urdu) - n. a short name used by poets in their poetry to identify the work as their original
(Contribution by Pastor Haroon Nazir)
© Akhtar Injeeli 20/08/2018
---