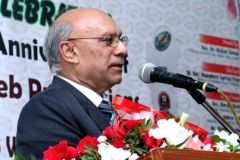 Rev. Dr Hizkiel Sarosh was a powerful preacher, a prolific poet, a dedicated church planter, a towering church administrator, a very sought-after convention speaker and a role model to many aspiring pastors.  He described himself as a Gospel Evangelist, and was once introduced to the USA audience, where he was asked to preach on a TV channel, as "a man of God from Pakistan".  His spiritual legacy, in the form of his books, articles and especially the songs he composed and set to tunes are a testimony of his unforgettable contributions to Christianity and its followers in Pakistan.  Through his ministry, he touched millions of lives around the globe.
Dr. Sarosh was born on 3rd April 1947 in Lahore, Pakistan. He gave his life to Christ and work for the Kingdom of God when he was only nineteen years old after being talked-out of a suicide attempt, by Pastor Yaqoob Paul. Sarosh was baptized in the River Ravi, Lahore, on 13th September 1965 by Pastor Yaqoob Paul and married his maternal cousin, Maya in March 1966.
After recieveing theological education from Full Gospel Assemblies Bible School (FGA) from 1968-1969, Dr. Sarosh served as a Bible teacher at the same institution from 1975-1998. Following that, he was promoted as a General Secretary of FGA for a few years. Later he served as its Chairman for eight years. FGA Bible School is now called Bible College.
The degrees he achieved were:
B.A. Music (University of Punjab, Lahore)
Elim Bible Institute (Apostle and Prophets, Wisdom and Knowledge) 1983
Bachelor of Theology (B.Th.) 1993
Master of Divinity (M. Div.) 1994
Doctor of Divinity, (D.D.) 2005
Dr Sarosh contributed several articles to various magazines and changed the lives of thousands through his spiritual messages. As well as writing three poetry books ('Hawa ka Shehar', 'Dilpasand Nagmat' and 'Yaadon ka Nagar') and spreading the Word of God in forty nine countries, he also wrote 675 Gospel songs and poems and received almost 50 awards for his services. Rev. Hizkiel Sarosh translated two books, 'Mother Teresa' and 'Attacks on the Bible.'
Rev. Dr. Hizkiel Sarosh died in a car accident on 8th November 2015 in Pakistan. Many were present at his funeral including members of the military, political figures, electronic and print media. He was buried in the Christian Graveyard, Lahore, Pakistan. (Gora Graveyard, Jail road, Lahore. Grave No. 555)
All the information about Rev. Dr Hizkiel Sarosh was provided by Rev. Falak Sher who stayed with Dr Sarosh for 29 years (since 1987). Rev. Falak Sher has written a book on the life of Dr Sarosh called 'Nay Ahad ka Khadim'.
© Akhtar Injeeli 12/07/2016
---