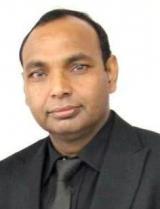 Parvez Iqbal was born on 16th January 1963 and grew up in Quetta, Pakistan. He completed his studies from The University of Balochistan in Quetta and also worked in the Government and Private Sector (national and global organisations), in the finance department.
In 1989, Iqbal received a Gold medal as Stage Compare and he has hosted many live stage shows all over Pakistan and in European countries. He has also achieved several awards, certificates and shields of appreciation for best character actor and director. Additionally, he has participated in live religious and social Mushayraa events in Pakistan and Europe.As well as being a Radio/TV host and drama writer/director, Parvez Iqbal is also a journalist who is well known for reporting for different online newspapers in both English and Urdu.
He also writes both religious and social poetry in Punjabi and Urdu and has written a book of worship songs in these languages. ('Payraan Thallay Lehraan') The book also contains 'Masihee Tappay', a typical and traditional form of singing in Punjabi. 'Payraan Thallay Lehraan' was inaugurated by Mrs. Asiya Nasir, MNA on 31st December 2012, in Quetta.Iqbal's second book of worship songs, 'Zaboor Kaay Saroor' is currently in the process of printing and publication. Many of his Geet and Ghazals can be found on his Facebook page. Parvez Iqbal has also written his first book of social poetry called, 'Rahat – e – Zeest' which is in the process of printing and binding.
Some of his achievements and responsibilities include:
President of the Pakistan Christian Congress Holland Chapter.
Founder and Chairman of Serving Hearts International (SHI), Holland.
A Christian rights activist who has lead and participated in many demonstrations in Pakistan and Europe.
Has been living in Holland since 2004 and is working as a permanent Government servant.
The first Pakistani Christian Administrative worker in the region of the Dutch Local Government.
© Akhtar Injeeli 12/07/2016
---