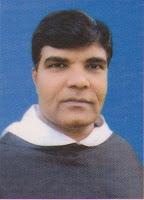 Father Younis Shahzad ( فادر یونس شہزاد ) is a Dominican friar who has served on the editorial boards of two magazines, namely Acha Charwaha (اچھا چرواہا ) and Focus. He is a writer, orator, researcher and a poet. 
Father Shahzad was born on 10th December 1965 in a small town  named Yousaf Walla in Sahiwal district. After completing his basic education in his native town he proceeded to  seminary in preparation of priesthood. After a long and devoted period of study and contemplation he was ordained as a priest in 1996. After serving as a priest in Bahwalpur for  one year and then in Satellite Town Parish of Rawalpindi for three years, in 2000 he was sent to Rome,  Italy,  for higher theological studies.  There he studied at the Papal Gregorian University for two years. Upon return he started  teaching . the doctrines of divinity, the holy trinity, and the divine aspects of revelations at the National Institute of Theology. In 2009 he was chosen to  complete Formation course in the Philippines. In addition to his teaching responsibilities Father Shahzad takes keen interest in the development and training of the youth of his church.
His first book Christmas aur Bahsarat ( کرسمس اور بشارت )appeared in 2011. This  224 page paperback is a collection of various articles relating to the theme of  the incarnation of the Lord Jesus Christ. The book has a attractive four colour glossy cover designed by Elder Walayat Abdullah. It is hoped that a book review of the said volume will be available in the near future (hopefully!).