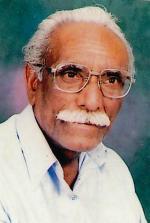 Born on 12th  October 1937 in Aadar, a small village near Rawalpindi, in the house of  Karam Din Joseph and Alice Bibi, Yaqoob Gill was the eldest among the siblings. He started his  education at the local village school  and passed his primary grades at St. Joseph's Primary school and continued his studies at St. Patrick High School, Muree Road, Rawalpindi. His initial employment was as as a musician in the band  platoon of the Pakistan Army.  He resigned this post to to train and work as a medical lab technician  in the Railway Hospital of Rawalpindi.  A man driven by intense desire to educate himself, he went on to complete a course in homeopathy in 1967.
Among his God-given qualities were poetry, singing  and music.  For over four decades he created good literature and  served the Christian literary community  in various ways.  It is claimed that his poetry has appeared in the national and international Urdu magazines and Newspapers*.
His services and accomplishments were repeatedly affirmed, as is evidenced by  long list of awards given to him. Following is only a selection: 
Saint Thomas Medal (1988)
Masihi Besharti Committee Award (1991)
United Christian Welfare Society Award (1993)
Pakistan Writers Guild (Markz), Best Performance Award (1995)
Pakistan Writers Guild Gulzar Chuhan Award (1997)
Christian Social Society AC Wah,  Best poet Award (2000)
Qaid-e Azam Gold Medal for the New melinium (2000)
___________________________________________
* Anybody who has samples of his poetry please contact me or any of theCUWAP representatives. The name of person/persons supplying such matter will be acknowledged on this site with a note of appreciation.