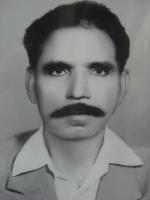 Shamsul ullama Allama Paul Ernest was born in Khushpur on 27th February 1902 to a landowner Jewaya Masih. Parents and family agreed to name him  Lall Deen. At the time of his baptism he was given the additional name of Paul Ernest.  However, it was this latter name that stuck with him and became his unique identification for the rest of his life. 
Ernest received his elementary education from his village, Khushpur,  and then passed his Matriculation from Daloowali High School and FA from the Foreman Christian College (Lahore). He continued his studies first earning his Munshi Fazil and then acquiring full proficiency in Urdu, Persian, Punjabi, and English languages.  He then proceeded to learn and master Hebrew, Greek, Latin and Arabic. Using his vast knowledge of the above mentioned languages he  studied logic, philosophy, psychology, ethics, physics and religion. The study of religion especially attracted him and this led him to comparative study of world religions. It was during this period that he was awarded a BA degree from the Punjab University. 
Ernest was not only an accomplished and life-long student  of languages and religion but also a very respected teacher of these disciplines. He served as a teacher at St. Thomas High School for thirty-five years and for forty-three years at St. Albert Caticat. 
His articles appeard in  Catholic Naqeeb (

کیتھولک نقیب

), Acha Charwaha (

اچھا چرواہا

) Fazloon ki Maan 

(فضلوں کی ماں

), Al- mayida(

المائدہ

), Talash (

تلاش

), Mshel(

مشعل

), Masihi Khadam  (

مسیحی خادم

), Kalam-e Haq(

کلام حق

), Shaoor 

(شعور

), and Shadab 

(شاداب

) . 
Allama Paul Ernest wrote the following ten books: 
1. Haqiqat al-Masih (

حقیقت المسیح

)
2. Haqaiq-e Bible (

حقائق بائبل

) 
3. Mqam-e  Meryam (

مقام مریم

) 
4. Purfazal Kanwari (

پرفضل کنواری

)
5. Kanwari say Paydaish (

کنواری سے پیدائش

)
6. Pedaishe Alam (

پیدائش عالم

)
7. Khuda ki Batt 

( خدا کی بات

)
8. Khuda Ki Zubaan 

(خدا کی زبان

)
9. Khuda ki Kitab (

خدا کی کتاب

)
10. Chragh-e Rah (

چراغ راہ

)
He also published a series of articles in
Catholic Naqeeb
. Unfortunately these, to date have not been published in a book form. These appeared under the title: 
Saleeb b'Jwab-e Kasr-e Saleeb 

(صلیب بجواب کسر صلیب

).
He also translated (from English into Urdu) the following four books written by Brother Baptist Croose
1. Rafaqat al-Masih (

رفاقت المسیح

)
2. Anmole Moti (

انمول موتی

)
4.  Unginat Anjam (

انگنت انجم

)
Ernest was an eminent scholar, an idol for many Urdu speaking Christians of India and Pakistan, and the caliber of his scholarship was recognized by the leadership of the various protestant churches  as well as by the catholic church. 
He was knighted by the Pope John Paul VI as the Knight of St. Sylvester, Catholic Tanzeem-ul Musanafeen (تنظیم المصنفین)  honoured him with the title Shamsul Ullama (شمس ا لعلاما)and the organization Hum Log (ہم لوگ) bestowed upon him the very revered title Allama, which stuck on as an inseparable part of his name.  
In addition to the honorific titles mentioned above he was a worthy but a humble recipient of several medals, includingTaghma-e shuja'at (

تغمہ شجاعت

 ), Taghma-e Khidmat (

تغمہ خدمت

) Taghma-e fazilat (

تغمہ فضیلت

) and Taghma-e immtiaz(

تغمہ امتیاز

). 
Christ the King Seminary, Karachi has had the honour of publishing a souvenir commemorating Allama's life and accomplishments. In Maryamabad a literary organization  is operative under his  name.