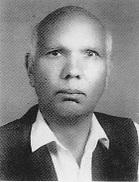 One of the most prolific Christian Urdu writers of modern times, Dr. Yousaf Masih Yad, is well known to the Urdu-speaking Christian community throughout the world. He is a self-made man of letters who has been awarded a Doctor of Divinity (Hons) by the Faith Theological Seminary of Gujranwala, Pakistan. His research articles have appeared in every Christian magazine and publication of Pakistan.
Yad was born in Sialkot in a humble and hardworking Christian household. Losing his father when he was still a small child, his formal education finished with the completion of his FSc from Edward College, Peshawar. This, however, did not prevent him from pursuing his love of education. In 1999 he earned a certificate from Open Theological Seminary, Lahore, and was soon appointed a tutor at the same institution. He then continued studying theology at Faith Theological Seminary, Gujranwala and was awarded BTh (1983), MDiv (1997), and DD (1999).
The awards and honours bestowed on Yad are many, and the following is only an abridged and representative list: Community Adbi Award (YCO Peshawar 1982), Padri Abdul Haq Award (Pakistan Christian Writers Guild 1998), Adbi Virsa Award (Caritas Pakistan 1998), Tak Kashmiri Award (Lahore Diocese 2000) and David Penman Award (Gulf Diocese 2002).
In Christian literary circles, Dr. Yad is often referred to as Mard-e Qalum مرد قلم (the man of pen), a title that he well deserves. Yad's first article appeared in Qasid-e Jadeed in 1952, and his pen has since then never stopped. He has published scores of high calibre research articles and has himself edited two Christian periodicals, Peyam and Zaire-o-zabar, both published in Peshawar. In addition, he continues to serve on the editorial boards of several nationally circulated publications.
The published books of Dr. Yad are as follows:
1. Bunyadi pathar بنیا دی پتھر
2. Azamt-ul Kitab

عظمت الکتاب
3. Azeem Khawateen

عظیم خواتین
5. Pak-o-Hind main Masihiyat

پاک و ہند میں مسیحیت
6. Tooma Hind-o-Pak main

توما ہندو پاک میں
7. Batul ham kay sheher main

بیت

الحم کے

شہر میں
8. Masihi Qalamkaroon say rabtay

مسیحی قلمکاروں سے را بطے
9. Sirat-ul Masih

سیرت المسیح
10. Jamal-e shahadat

جمال شہادت
11. Yahoodiyon ka badsha

یہودیوں کا بادشاہ
12. Nagarshat-e Yad

نگارشات یاد
13. Peyara Paksita

پیارا پاکستان
In the book Mard-e Qalum, to Dr. Yad's enduring credit, fifty-six prominent writers and poets have expressed their love, admiration and appreciation of his life and works. This salutary festschrift* has been published by the Christian Writers Guild, Bannoo, and contains contributions from scholars such as Griffen Jones Sharar, Kanwal Feroze, Arthur Barki Arthur and Sarfraz Tabassum among others. Mard-e Qalum contains both prose and poetry and, judging by its literary qualities, is a valuable addition to Christian Urdu literature.
__________________________________________


* lit. German, fest: celebration; schrift: writing