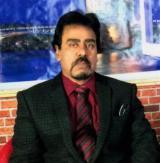 Samson Javed, a famous Christian Urdu journalist was born in Quetta, and studied Journalism in Islamabad. He did B.Ed at Al-Hamad Islamic University Quetta and completed post graduate education from AA Hamilton College, London. He taught Chemistry and Biology at St. Michael's High School Quetta from 1996 - March 2011.
He started the journey of Journalism by publishing the magazine "Safeer" Sialkot, graduating to Assistant editor of different newspaper including "Aftab" Quetta, and then Editor of newspaper "Suraj" Quetta. He has written columns for Daily Jang, Daily Mashriq, Daily Aftab Quetta. Not content with just the print media, he has also written drama scripts for TV, Radio and Stage, including 32 dramas of 25 minutes and one drama of 45 minutes for PTV Quetta. 
He has been the recipient of awards for: Best Writer, Best Journalist and Best Drama Writer from different organizations in Pakistan & London. Presently, he is a permanent weekly columnist for Daily Jang, London. He is one of the founders and the current president of Pakistan Christian Press Club (PCPC) -UK
He has always encouraged newcomers to write articles, gave coverage to politicians and raised Christian issues in Daily "Kundan" Quetta newspaper. I would say that he is our main voice in raising concerns and highlighting the minorities' problems within the main Urdu media. His style of writing is exemplary in identifying and dissecting a problem, and then persuading the reader to look at it, from an unfamiliar perspective. And week after week he manages to do this seemingly impossible task, without offending anyone. 
To watch a TV discussion with Mr Samson Javed, please click the link below:
https://www.youtube.com/watch?v=P2Kv-m0ne6g
(Contribution by Morris Johns) 
© Akhtar Injeeli 24/09/2016
---