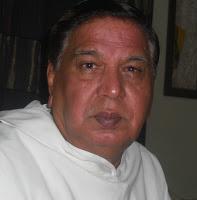 Father Sundar was born in Mian Chanoo, Pakistan. He completed his graduation in 1974, and then proceeded to study Theology at Christ the King Seminary in Karachi, where he finished his studies in 1976. Between 1977 and 1980 he served the Christian Community in Rahim Yar Khan. In 1984 he journeyed to Ireland to  undertake a course in Justice & Peace, and then studied Mission Theology in Birmingham, successfully completing his studies in 1988.
Father Sundar started writing in 1968.   He acknowledges  his debt of gratitude to his literary mentors, among which Saman S. Lall and Salik Rabbani are significant. And for his literary endeavours, he has been awarded by Humsookhan, Naqeeb,  Kundan and Stoon-e Haq.  He has contributed extensively to various Christian magazines in Pakistan.
So far Siddique Mark Sundar has published two volumes of  Poetry, Karrva Ghount (1989), and Zawiyay  (1999).