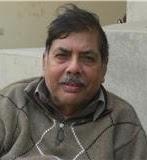 A   native of Lahore, Pakistan, Issac Sosheel (  آئزک  سوشیل  ) is well known both in the Christian community as well as the wider Urdu speaking public. His contributions to the world of Urdu journalism are significant and have earned him an enduring place among the writers and journalists.  He  has also been recognised as a successful playwright for the plays which have been televised from PTV,  Alif say Dall tak, Doosra Rhuk, and Teesri Barr are worth noting here.  Following is a very concise overview of his career.
He earned a BA from the University of the Punjab (Pakistan), in 1966, and then ad MA, in Mass Communication (major in journalism) from the State University of the Philippines, Manila in 1972. 
His journalistic career has a lead him to some of most respected dailys and other periodicals of Pakistan.
1967-1969 Assistant Director, Kamal Pictures, Lahore.
1969-1978 Senior Sub-editor,  Nawa-e waaqt (fortnightly), Lahore.
1973-1975 Editor-in-charge,  Awaz-e Wattan (fortnightly), Lahore
1975-1977 Editor-in-charge, Mustaaqbil (monthly), Lahore
Soheel's articles have appeared in many reputable newspapers and tabloids in Pakistan, including, Imroze,  Mashriq, The Pakistan Times, and Jang.  
Sosheel is currently holds  the charge for  the daily Kundan Lahore, a nationally circulated Christan paper. 
(More information to follow).