Dr. Timothius Nasir was (ڈاکٹر ٹیموتھیس ناصر  ) was born on 10th  December 1947, to Dr. Kundan Lal Nasir, the renowned Christian Scholar and the founder of  Qalam-e Haq (کلام حق ), the flagship magazine of the Faith Theological Seminary, Gujranwala, Pakistan. In addition to studying religion and gaining deep theological insights from his father Timotheos Nasir developed many other facets of his personality.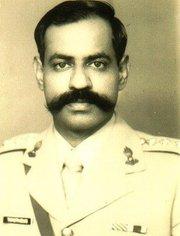 From early childhood he expressed his desire to serve his country as a soldier. To this end, in 1971, Nasir joined military service with the armed forces of his beloved Pakistan. His  dedication and devotion helped him rise in  the ranks. He retired from the armed forces in 1986 as a Major. In the same year he joined the Faith Theological Seminary of Gujranwala as the Principal. He served as  the Moderator for The United Presbyterian Church of Pakistan  from 1997  to 2001 and was appointed a Presbyterian Bishop of Pakistan in October 2001, a position he held for the remaining days of his life. Following his father's footsteps he proudly defended the orthodox Christian faith through his lectures and articles which appeared in various national and international magazines. He also served as the Managing Editor of the monthly magazine Qlam-e Haq from 1995 until his death in 2011. Almost all his writings have appeared under his preferred title Major T. Nasir.
Major T. Nasir was a widely read man with an insatiable hunger for knowledge and a huge  love for books. He enjoyed reading and writing books about religious philosophy as well as military strategy.
He has authored the following books in Urdu.
1. Faham ul Kitab I ( I  فہم الکتاب  )
2. Faham ul Kitab II ( II فہم الکتاب )
3. Tafseer ul Kalam I ( I  تفسیر الکلام  )
4. Tafseer ul Kalam II ( II تفسیر الکلام )
5. Tafseer ul Kalam III ( III تفسیر الکلام )
6. Fahm uk Kalam I ( I  فہم الکلام )
7. Fahm uk Kalam II (II فہم الکلم )
8.Fahm uk Kalam III ( III فہم الکلام )
9. Jawab hazar hai ( جواب حاضر ہے )
10. Akash Bail ( آکاش بیل )
11. UP Church ka almiya ( یو - پی  چرچ کا المیہ  )
He also published the following three works in English: Sun in the East, My days in Uniform, and The General. The last mentioned book is about his military hero General George S. Patton.
Even though the above listed works would have been enough to earn anyone an enduring place  among the highly respected Christian Urdu writers, Major T. Nasir also published over two thousand articles on irreligious, ecclesiastical, national and international issues. Nearly two hundred of these articles were apologetic and or polemical in nature, penned to answer critics of various aspects of Christian faith.