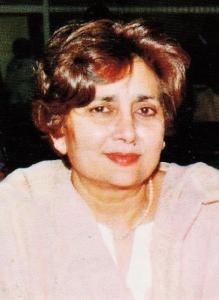 Born in a household of educators and educationalists, and brought up in an atmosphere of teaching and learning, Mrs Shamim David has pursued literary activities since school days. In these she was encouraged by her family and friends but her  talent in  expressive and persuasive writing bloomed to its fullness when she decided to write for the oppressed classes of society. Mrs David received her early education by senior family members and was greatly influenced by her father, Headmaster, Naseer Khan, whom she remembers both as an affectionate father and a strict disciplinarian.  She received her high school education at Government High School, Daska, and her college education from Gordon College, Rawalpindi, and Murray College Sialkot, where she graduated with a B.A. in psychology (with distinction). Still latter, she received a B.Ed degree for which she had studied privately. 
Her articles and columns are, therefore, steeped both in communal issues, that effect most Christian households, and comprise of a dedicated intellectual struggle to improve Pakistan's  society as a whole.  In her columns, she informs, challenges, debates, provokes and above all seeks justice by dissecting the subject matter right down to its core,  in a way that the real issue is exposed for what it is, and not for what it is made to appear by those in authority. 
Being a keen observer of communal history of Pakistani minorities in general and Christian minorities in particular, she was moved to write about their plight. She started writing thought-provoking and challenging columns in 2003. These contributions which highlight the consequences of persecution the minoritiews have appeared in Daily Jang, London, and in Mahnama Humsookhan. Reading her columns  one is impressed that neither any socio-political issue nor any significant legal matter has missed her sight. She has raised their voice about every conceivable injustice committed in Pakistan. Furthermore the choice of her words, the vastness of her vocabulary, and her command of the Urdu idiom is of a caliber that is not easy to find even among some of the most regularly published Urdu columnists. All these qualities point to the fact that she is a very widely read person, and keeps herself up to date with current affairs, especially those pertaining to the minorities in Pakistan. However, she stated, in a recent interview, that of the writers she has come across, she has found Irshad Haqqani, to be most impressive. 
Mrs. David, after being a committed Christian is a patriotic Pakistani. Writing  about Pakistan, she takes special pride in calling it, Hamara Pakistan (*Aug. 2010). She wrote,  Masihi Qoum to bay laous rahnuma ki zroorat  (Feb. 20014) which resonated with the heart cry of most Pakistani Chrisitans. Her  patriotism serves to be the basis for all the things she finds wrong with her country, i.e. Aqaleeatain Pakistan main apni mazloomiaty ka roona kab tak rooti rahain geen (Dec. 2017),  and Aqliatoon ka roona (Nov. 2017), Aqleatain aur khushnuma daway (April 2015). In her writings, she has often compared the situation of Muslims in UK, with that of the Christians and other minorities in Pakistan, i.e. Islam British shanakht ka hisa ho sakta hia? (March 2015) and Baroness Warsi ka Doura-e Pakistan (April 2017). These are but a spattering of the topics Mrs David had covered in her columns, in fact the range is much larger, and too large to be covered to any complete extent in a website like this.
It is however, hoped that Mrs David will continue to serve her community and the Urdu speaking community at large through her incisive pen, and clear debates for many years to come. On behalf CUWAP. Org it has been my privilege to interview her for this short write up and also to  host her several times, among experts on the Gateway Gazette TV show.
To watch a TV discussion with Mrs Shamim David, please click the link:
https://www.youtube.com/watch?v=jx2VHkT8u6I
---
* The date in the parenthesis refers to the date of the publication of the article
**(Gateway Gazette TV Show is a News and Views channel, telecasted from MATV London Studios, every thursday at 8:30 to 9:30 pm, London Time) 
© Akhtar Injeeli 21/09/2018
---