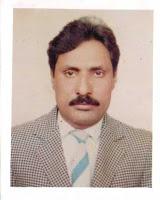 Naeem Waiz ( نعیم واعظ ) the great grandson of Rev. Rehmat Masih Waiz (q.v.) was born in Rawalpindi. During his youth, he actively participated in various movements that effected the Christian Community. In 1972, he took part in a long march along with 24 other young men, walking from Sialkot to Rawalpindi to register their protest to the nationalization of Christian institutions.
In 1974, Waiz was appointed editor of a Christian monthly magazine, Aftab (آفتاب ), and contributed significantly to the cause of Christianity in Pakistan through this medium. In 1976, he was appointed editor of a fortnightly film magazine. However, as his first love was always for his own religious community, he left that post and joined the fortnightly magazine, Shua-e-Noor ( شعاع نور ), in 1983 as its editor.
In 1990 he moved from Lahore to Karachi where he actively participated in community and political life from the platform of Pakistan Peoples Party (PPP). In 2004 he migrated to UK, where he continues his literary activities.