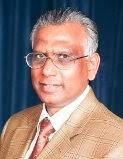 A prominent contemporary Christian  theologian,, church administrator, a much-sought-after convention speaker, and a prolific writer, Dr. Liaquat Qaiser is   the Principal of Full Gospel Assemblies (FGA) Bible College and  a very prominent Christian intellectuals of Pakistan.  He was born in Lahore,  and after completing his Seminary training in Pakistan went   onto earn a doctorate from the USA. He was awarded DD in 2005.   He currently also serves as Chairman for the Open Theological Seminary (OTS) Lahore, and Senior Vice President of the Pakistan Bible Society.
Dr. Qaiser started his writing career in 1970. Since then he has published  scores of articles for various newspapers including Jang, Nawa-e Waqt, and The News, as well as for Satoon-e Haq, a Christian monthly published by the FGA. Dr. Qaiser is the patron and editor-in-chief for the magazine and writes for it regularly though not exclusively. His views and articles regularly find place in various other Christian magazines such as Hamsookhan, Kalam-e Haq, Sada-e Aqleeyat, Shadab and Shalome.       He has thus far published two books, namely Masihi khadam ki  roya     (مسیحی خادم کیرویا ) ,   Meyari Masihi Khadam (معیاری مسیحی خادم)  Azdwaj ka Saffar  ( ازدواج کا سفر ).  His literary achievements have attracted international  attention which is testified to by a dozen awards presented to him. David Penman Award was given to him in 1990, and Eternal Life Ministry Award in 2007.
He is also an accomplished translator and the following is only a partial list of the books and tracts that he has translated from English into Urdu. (only the Urdu titles are given below).
1. Harmajdooan tak ( ہرمجدون تک)
2. Shiffa ka Saffar  (شفا کا سفر)
3. Main waqiya he khoobsoorat kaisay ban sakti hoon( میں واقعی خوبصورت کیسے بن سکتی  ہوں ) 
4. Ishtrakiyat main neyya inqlaab  ( اشتراکیت میں نیا انقلاب)
5. Rooh-ul Quddas: maira azeem shareek-e kar  (روح القدس میرا عظیم شریک کار)
6. Mazameen Bible kay  ( مضامین بائبل کے)
7. Kaleesiya ki tareekh: Pantikost say islah tak (کلیسیا کی تاریخ : پنتیکوست سے اصلاح تک )