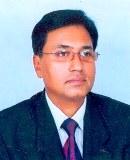 Dr. Prudent Nasir Injeeli, the younger son of late, Pastor Emmanuel Qasir Injeeli was born in Sheikhupura Dist. Punjab, Pakistan. He completed his formal (high school) education from Pakistan Adventist Seminary, Frooqabad, District Sheikhupura.  After completing his high school (matric) from Lahore Board, he continued with his further education, completing his BA from the Punjab university Lahore in 1986 and then earning MA in English in 1990. Injeeli earned INTESOL (Teaching English as a Second Language) and Certificate of Education from The College of Teachers, UK, in 2006. In 2015 he was awarded Doctor of Divinity in Comparative Religions from California, USA.
Prudent Injeeli has a vast experience in teaching at seminary and university levels in Pakistan and abroad. He has taught English literature, applied linguistics and writing skills at various universities in Cambodia. Injeeli has been writing articles and blogs from a very young age. His articles were periodically published in the Qasid and Sehat magazines in Pakistan, as well as in nationally circulated daily newspapers in Pakistan and India. In 2000, he was appointed the Editor of the said magazines. He has also translated many articles and several books from English to Urdu and Urdu to English. His first translated work was, Hammara Dil, (English title: The Heart of the Matter) authored by Marylin Johnson and published by Qasid Publishing House, Lahore.
In 2001 he, along with his family, moved to Cambodia where he continued his zest and zeal for writing and research. His book Mind Your Words was published by Trafford Publishing, Singapore in 2013. The book earned international acclaim in academic and literary circles.
Dr. Injeeli has also been a vehement human rights activist, raising his voice at different forums against the persecution and discrimination of religious minorities and the marginalized sections of society. His latest work, Baptized in Blood and Fire is a well-researched and documented work in this regard which is published from the UK. Dr. Prudent Injeeli is presently living in New York, US and is working on his next literary venture, The Art of Literature.
© Akhtar Injeeli 14/06/2018
---