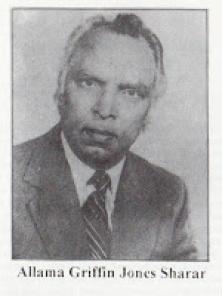 Allama Sharar was son of Revd. Barkat Masih and was born in Mandhiala Tega, a suburb of District Gujranwala Punjab province (now in Pakistan). He studied at CTI Mission High School Sialkot and later went to the American Mission Gordon College Rawalpindi for further studies. Before completing his graduation he joined the armed forces and served n Rana Garh (Bengal), Colombo (Sri Lanka) Bilaspur (India), and Lahore (now in Pakistan).
Sharar apparently  inherited from his ancestors the vigour and predilection's for serving humanity, the glimpses of which we undoubtedly see in his inspiring messages in  the form of colossal poetical precepts which he has left behind  apart from the memories of his indefatigable zeal  he demonstrated through his active participation, presentation and performances in the community affairs as well as being the author of ten books with eight diwans and also he served as the Chief Editor of  Tajalli Magazine issued from Glasgow/UK and later he served as Patron of Christian Times published from Luton, UK.
Sharar's books:
Naqoosh-e Saleeb  ( نقوش صلیب )

Saleebain zinda hain ( صلیبیں زندہ ہیں )

Nada-e Saleeb (نداۓ صلیب )

Saleeboun kay sa'ay (صلیبوں کے ساۓ  )

Keilain Kantay aur saleeb ( کیلیں، کانٹے اور صلیب )

 Irfan-e saleeb ( عرفان صلیب )

Rodada-e saleeb (روداد صلیب  

Karwan-e saleeb ( کاروان صلیب )

Masihi Mashaheer  volume 1. ( مسیحی مشاہیر جلد اول )

Masihi Mashaheer volume 2. ( مسیحی مشاہیر جلد دوئم )
Sharar was a social activist, a political theorist and made some remarkably accurate predictions about the future of his people in India and Pakistan. Unfortunately, however, I am afraid that these attributes of his insightful personality will not be remembered for long. This is a pity. However, what cannot be easily forgotten, even in centuries to come is his great poetic gift and the voluminous poetry he has written and published during his lifetime.
Sharar's great literary achievement is not the amount of poetry he has produced, though it is no meagre feat in itself, but the unique ways in which he has kneaded Biblical and Christian theological phraseology in novel poetical renditions. He is a towering master of inventing original metaphors, similes and personifications using Biblical references. Throughout his voluminous work reader can find one enduring theme and that is his unwavering devotion to the cross of his Lord Jesus Christ and his uncompromising love for his chosen beloved, the Christian Church.
This truly great scholar, and an irreplaceable son of the Asian Christian community, slept in the Lord on 28th December 1999, and is buried in Luton, UK.
© Akhtar Injeeli 09/02/2016
---