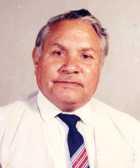 Injeeli was a native of Gujranwala (now in the Punjab of Pakistan), where he was educated and later started his professional life as a government school teacher. After joining the Seventh-Day Adventist Church, and receiving baptism by emersion at the hands of his spiritual mentor​, Padri Prem Masih in 1960, he served the church as a teacher, preacher, pastor, editor and chaplain. He always remembered Padri Prem Masih very respectfully and enlists his name among those who significantly helped him on his professional and spiritual journey*.
Due to failing health, he took early retirement in 1994 and died in Anklesaria Hospital, Karachi, on 14th November of the same year. 
A  sincere student of the Bible, Injeeli believed it to be the Word of God and spent all his practical life teaching and preaching it. His father's name was Karam Ellahi, who was an elder at the local UP Church in Gujranwala. However, due to his intense devotion and his unashamed identification with the Injeel (The Gospel of Lord Jesus Christ) very early in his life his friends and colleagues started referring to him as "Injeeli", a title which became not only his name but also his sole identity.
He served in the Adventist Church as a pastor and teacher in various villages, towns and cities of Pakistan i.e. Kotsohnda, Kakargill, Chuharkana Mandi, Mangoki (Dist Sheikhupura, the Punjab province), Mirpur Khas, Karachi (Sindh province) Peshawar (NWF province). Between 1975 and 1980 he taught Urdu language and theology at Pakistan Adventist Seminary, Chuharkana Mandi**. In 1980 he was transferred to the Church headquarters at Adventpura Lahore, to work as a translator of books (English to Urdu). Then form 1984  to 1989 he edited Qasid-e Jadid and Sehat magazines. It was during this period that he wrote many of his articles and poems which have earned him a prominent place among the Christian Urdu writers and poets. Many of his poems first appeared in these magazines.
His first book, Basharet-e Uzma  (The Great Good News) was published in 1992. It is  is a collection of poems, Ghazals and songs expressing Injeeli's deep insights into the Biblical themes as well as his great and unwavering devotion to his  Lord, Jesus Christ. His poetry has been commented upon and critiqued by his contemporaries like Baba Najmi, BM Hasrat, Master AR Nazim, Tamkeenul Haq Balkhi, Kanwal Feroze, Naeem Waiz and others.
In 2015, Dr Preeya Tabita, then the Associate Professor of Urdu at Foreman Christian College University, Lahore, compiled, edited and helped publish a complete anthology of Injeeli's poetry in one volume. The Kuliyat-e Injeeli, is so far the most complete collection of his poetic works, and includes two long Masthnavis, Bashart-e Uzma, and Dastan-e Kalwari. This hard bound volume was published by Mavra Publishers (Lahore), in association with Christian Urdu Writers and Poets Organization (cuwap.org).
* see page 309 of Kuliyat-e Injeeli
**The name of Chuharkana Mandi was later changed to Farooqabad and it is by this name it is  known to this day. 
To watch a short video of Kuliyat-e Injeeli's openning in Karachi, Pakistan kindly click the link below:
https://www.youtube.com/watch?v=7g_e5_kKSFE