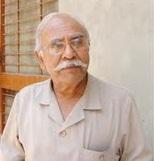 Associat professor of Urdu language at Foreman Christian College Lahore since 2003, Mr. Vincent Pace (pen name Aseem Saleebi) is a Pakistani patriot, a language scholar, a Christian poet and, above all, a man of letters with deep-seated Christian values of service. Before joining the above institution, he was a lecturer at LaSalle, Faisalabad, the city where he was born and completed his education.
His published works are:

Sr-e shehr-e sangbdast

and Jannat di chhan. His other books in the various stages of publication include: Samudar say samunder tk,

Apni chhat - apna angan

, Geeli rait, Fun-e shakhseyat nigari, and

Mout say hayat tk

.
Pace is a name well-known in reputed literary journals, including, Catholic naqeeb, Deed gah, Tajdeed, Urdu nama, Tadeeb, Humsukhan and Aftab, and he has been the longtime editor of the literary page of the newspaper, Christian Monitor. A frequent visitor to cultural and literary events, he prides himself on being a close associate of the 'greats' in these fields, counting among his friends and associates such names as Adeem Hashimi, Munir Kazmi, Zahid Akkasi, the late Dr. John Joseph, Father Rahid Asi, the late Nemat Ahmar, and Naheed Nawaz.