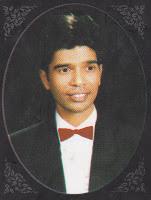 Naeem Saleem ( نعیم سلیم ) is a singer and a poet, but I've never been able to make up my mind as to which of the two is his real talent or calling.  When I first listened to his singing I thought of advising him not to waste his creative energies on writing poetry; and then I read his poetry and since then have never found the courage to advise him about anything. This dilemma was not mine alone, for Dr. David Paul  who honoured with the title Ambassador of Peace, notes: "There is (sic) many positive aspects of his life and sometimes  (these) make it difficult to work out a real introduction as to who he actually is."
He sings  beautifully, plays several musical instruments and writes soul-nourishing poetry.  Saleem hails from Lahore, and belong to a  very musically talented family.
He has recorded various audio cassettes and CDs. I had the privilege of being present at the opening ceremony of one entitled: Shukriya ( شکریہ ). His album Love Pakistan was released in 1996 which won praise and appreciation even from the President of Pakistan. To  date he has released sixteen music albums, and is considered a trend-setter in the music industry of Pakistan.  He has a passionate commitment to Christianity and has been teaching "Biblical Survey of Music for the past seven years.
His published works include:
Aman ka shehzada (امن کا شہزادہ)
Geetan dee ghurti ( گیتاں دی گھڑتی )
Dharti pay sulah ( دھرتی پہ صلح )
Kazi Javed, Director of Academy of Letters Pakistan, states "I understand that the South Asian Christian cultural  heritage has gone a long way in the making of his humanist outlook.  Naeem Saleem has given us verses that carry new ideas and insights into the nature of like, love and human relationships. His poetry is passionate and is composed in easy-to understand language and charming style." 
© Akhtar Injeeli 31/01/2013
---