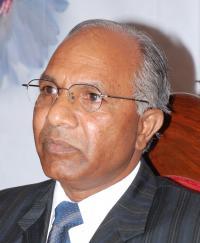 Carrying his o
wn cross and focused on the cross of his Lord, Pastor Inayat Saleebi, has claimed his place among the rank and file of Christian Urdu poets, by his faith-enrichin
g and soul-strengthening anthology dedicated to the cause of peace. Akhri Saleeb is both a devotional volume as well as a polemic of the message of the Cross.
Saleebi started his writing career in 1980 by theological articles in Qasid-e Jadeed monthly (Lahore). However since then his articles have also found place in nationally circulated news papers, The Pakistan Times, The Nation and Din.Trained as a pastor, and academically equipped with degrees in Christain theology (completed seminary studies in Lahore), and a Masters degree in Islamic Studies (The University of the Punjab). Saleebi has tried, quite successfully in my opinion, to do justice to the very difficult and central tenant of the Christian faith, Saleeb (the Cross). Indeed, he is not the first, and certainly will not be the last to show extreme devotion to and a yearning for the understanding of the depth of the message of the cross, but what makes, Saleebi, unique is his appreciation of the fact that his is just on of many. He clearly comprehends the magnanimity and the universality of the cross, and comparison his own insignificance.
Saleebi's art of successfully handling poetic phraseology is apparent throughout the pages of Akhri Saleeb. It is a little surprise then that he has been honored with several awards: Mimmar-e Watan (2008, Lahore), New Song Music Minsitry Award (:2008, Sialkot), Pakistan Christian Citizen Forum Award (2009, Islamabad), and Galaxy Creative Team Award (2010, Rawalpindi).