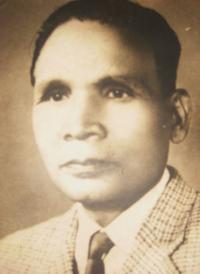 A towering figure of the twentieth century, Master K. R. Zia

ماسٹر کے آر ضیاء

was not only a great poet and writer but also a founder of many literary movements in the Christian community of Pakistan. He was born in the village of Dauder of Moga (India) in 1920 and started his literary career from Christian Training Institute (C.T.I) as an Urdu language teacher and a songwriter. He was a major contributor to the famous Hymn book "Sialkot Convention Geet Ki Kitab". While in Sialkot he wrote two books  Naghma-e Zindigi   

نغمہ زندگی

and Taran-e Zindgi  

ترانہ زندگی

.
K. R. Zia was the first choir conductor of the historic, international Christian Convention commonly known as the Sialkot Convention of which he was the most significant figure. He was also the first to write and direct Christmas dramas for radio broadcasting for the Christian community.
C.T.I. has been a status symbol in the education world of Pakistan and K.R. Zia was one of the most prominent teachers of that institute. Physical punishment of students to maintain discipline was in practice in that epoch but it is said that K.R.Zia, was the only teacher in the whole Institute who did not engage in it. He used only his words to achieve the goal of disciplining his students who in turn were deeply affected by this polite way of teaching.
Founder and original organiser of Christian camping in Pakistan, K.R.Zia filled his camps with literary and artistic activities as well as with young people from all over the country.
 In 1980 K. R. Zia founded the Pakistan International Christian Arts Society which established a music school and organised a series of concerts, dramas and Mushayeras to promote Christian poets and artists and to provide a stage for Christian artists. He was also the founder of Masihi Tehreek-e-Adb-o-saqafat. Under the banner of this Tehreek, he organized many mushayeras in Pakistan. During this time his book Jagtay Harf 

جاگتے حرف

appeared and was well recieved in the literary circles.
Dr. Billy Graham, the world renowned American evangelist, invited K.R.Zia to attend the International Christian Conference, organised by Billy Graham Ministries in 1986.
In 1994 K.R. Zia published his book of Urdu poetry, Chiragh-e-Akhir-e-Shab

چراغ آخر شب

. The last book he wrote was Dahst-e-Tanhai 

دشت تنہائی

. However, life did not give him the opportunity to publish it. Sadly, on 2nd July 2004 he died of a lung infection.
ہم اپنے وقت کے سورج ہیں ہم کو پہچانو
جلیں گے ہم تو ستاروں میں روشنی ہو گی
(I would like to express my deep and sincere gratitude to Mrs. Anita Aslund (Canada) for this article.)