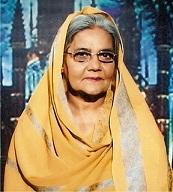 A living legend, worthy of honourable mention here, Professor Victoria Patrick is a writer, teacher, translator, poetess, songwriter, educator and educationalist. Professor Patrick has 37 years of teaching experience, having taught for 32 years at Kinnaird College for Women, Lahore and 5 years at Foreman Christian College (C.U.), Lahore.
In her long and productive life, she has published extensively. Her titles include, "Rehmat" (poems on women's issues) with cassette, and "Ao karobar karen" (sponsored by UNICEF), "Deep deep ujala" (educational poems and songs), "Pankharian" (32 poems for children published by Nirali Kitabein as a textbook), and "Rahein" (booklet on problem-solving for neo-literates sponsored by UNESCO). At present she is working on her 2 forthcoming books for the National Commission for Human Development, Islamabad."

:

Pyar kay rishtay" and "Sunehary Din". Her other works under process of publication include, "Chandi dhuan dhuan" (poetry), "Sadhran

"

(Punjabi poems), "Nae ufaq kay Geet" (poetry for women) and "Lehr lehr roshni"(religious poems and songs). 
Prof. Patrick has translated more than 70 books from English into Urdu. Some of her main works in this area are listed here: "The upper room" for 10 years and prepared 5 cycles of "Daily Bread" for Scripture Union Pakistan. The other organizations for which she has translated include: the Pakistan Bible Society , Masihi Ishayat Khana, the Director of Social Welfare Government of Punjab, Good News Ministry, Jesus Christ Television (regular translator of 700 club and In-touch Ministries) and N.C.C.P. (National Council of Churches in Pakistan). Her original Urdu articles have appeared in many reputable, and nationally circulated newspapers and magazines including: Nawa-e waqt, Caritas, Naqeeb, Nai Dyniya, Qasid-e Jadeed, Shadab, Sawan, Humsukhan, and Tadeeb. Between 1959 and 1961 her short stories appeared in "Hilal", a Pakistan Army weekly.
Over the years, she has earned honours and awards which number more than 60, a few of which are listed here: Best Poetess Award (Masihi Bazm-e Danish 1982), Sitara-e Pakistan (Girl Guide Association 1984), Best Poetess Award (Caritas Pakistan 1986-1988), Adbi Wirsa Award for Poetry (1998), I. D. Shahabaz Award (Christian Writers' Guild 2003), Lyricist Award (Waves Studio 2002), Fatima Jinnah Gold Medal in recognition of educational and literary services (12th Governor of Punjab 2004), Silver Jubilee Cerebration Award (LRI 2008), LCC Church (2009), B.M. Yad Award (2010).
Prof. Patrick also has made her mark in musical realms, and lyrics written by her have been sung by some of the most popular singers: Maan di chunni chavway, (sung by Usatand Nurat Fateh Alli Khan), Jey maan Mrryam (Noor Jehan), Ao ahl-e jehan hum chraghan karain (A. Nayyar and Mehnaz), Ehd karien and Aman ka panchi (Benjamin sisters),

Nai zamin ho niya asman

(A. Nayyar), Rabba putran de phutt (Saira Khanam) and

Mann Mariyam banai khuda ney

(Surrya Khanam). Her song Roshni roshni sara alam huwa is included in the Sialkot Convention song book.
Prof. Patrick, used to read a radio column for the women's programme Hamari Duniya and co-ordinated Christmas and Easter programmes for T.V, radio and various institutions and organizations. She planned programmes and lessons for adult literacy, reproductive health and religious curricula , and conducted literacy programmes and worked for literacy development with Kinnaird College Senior Guides. Though officially retired, she still performs her educational and literary activities as a continuation of her lifetime contributions. Her current activities include producing educational materials for young children in the form of CDs, and DVDs.