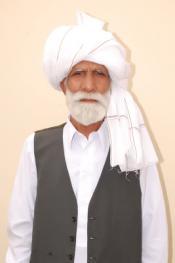 The poet behind the famous Punjabi literary work Kakh naien mayray palley (  ککھ نیں میرے  پلے  ) is the towering Christian Sufic personality of Baba Rustam Khan ( بابا رستم خان ). Though his formal education ended with matriculation (St. Thomas High School Khushpur),  his literary flight has soared beyond the limits of many university graduates and titled scholars.
Baba Rustam Khan hails from Khushpur, Chack no. 51 Samundri Faisalabad, where he was born in 1941 in an agrarian headed by Baba Qadir Bukhsh.  Mr. B R Khan married in 1962 and has lived faithfully with his wife Martha, with whom he has five children.  He enjoys reading good literature in Urdu and Punjabi, and acknowledges Allama Ernest Paul as his teacher in both poetry and prose composition.  He uses Baba (بابا )as a short literary name.
Baba has a long and checkered service record having worked in various foreign embassies and in the Catholic Church Karachi Diocese in the Kotri Parish. He served as a receptionist in the Italian Embassy (1951-1963), as a club manager in Korean Embassy (1965-1969) as a Church man in Karachi (1970-1973), as a guest house manager in an Italian company (1974-1980), as a chef in French Embassy (1981-2006) and then spent one year in Danish Embassy (2007 -2008).
His book Kakh naien mayray palley was published in 2009. When I had the privilege of speaking to this master artisan of words, he stated, 'people say, Baba plays with words, but the truth is otherwise, for in reality it is not I who plays with words, but rather words play with me'. Several more of his books are in various stages of publication and will be featured here and on our definitive website: www.cuwap.org, in due course.
Here is a sample of Baba's poetry:
کہاں    تاب   گستاخی   کی    کہ   روبرو    آؤں
بابا خاک کے ذرے بھی سورج کو گھورتے ہیں
And here is a poem by Baba, especially written and dedicated to CUWAP.ORG
جن چراغوں نے روشنی بکھیری تھی
ان چراغوں  کے  چراغدان  بن  جاؤ
مانا  ہوا  خاتمہ   تیل  و   روئی   کا
ان چراغوں میں جلو داستان بن  جاؤ
کیا   ہوا سوے   ادب    کے   پجاری
ادبی   محل  کے  نگہبان   بن   جاؤ
ارواح  ادیبوں   کو  دکھ  نہ   پہنچے
سوۓ  ہوؤں  کے  شهادتدان  بن  جاؤ
علم  سے   آمدنی  چاہنے   والے لوگو
کچھ  علم  کے  بھی   قدردان  بن   جاؤ
ناسوروں    کے  فقد ن  نہ  بنو   بابا
ادب  والو ں  کے   قلمدان  بن    جاؤ
© Akhtar Injeeli 09/02/2016
---