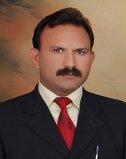 The founder of Tadeeb Ministries and chief-editor of Tadeeb magazine, Javaid Daniel is an aspiring evangelist, an established editor/publisher and himself a published poet.  His magazine provides a platform for many established and budding authors and poets to share their views and to develop their writing skills, and is now in its tenth year of continual publication. His commitment to Tadeeb and its timely production testify to his sincerity with the mission that he has taken upon himself. His poetry is full of devotion to Lord Jesus and is a source of encouragement to his readers. Nazeer Qaiser ranks Javaid Daniel with poets like Peyaray Lal Shakir and K R Zia. In my own opinion Daniel is on the same road as traversed by these greats, but has a long way to go yet.
Daniel's  book Paniyoon par parwas ( پانیوں پر پرواز ) published in 2007 is a worthy addition to the treasure box of Urdu literature. This rather concise volume is an eloquent testimony to the poets breadth of intellectual dimensions. Having read this book I can confidently say that he has just begun his journey in the realm of similes and metaphors. In future Javaid Daniel will most definitely bring us more poems to enjoy, more intellectual challenges  to think through and more songs to sing.
As an observer of the progress and contributions of Christian poets and writers, I except he will give me more work to keep me occupied.
For Urdu readers here is a sample from Paniyoon par parwaz:
ظالم  کی  یلغار  نہ   ہو   گی
 دہشت  اور تلوار   نہ  ہو  گی
 لیکن  اپنی   ہار   نہ   ہو  گی 
ھوشعنا کے  نعر ے   گونجیں 
اور  کوئی   گفتار   نہ   ہو گی    
  :To visit the Tadeeb Ministeries website please click the link