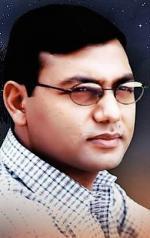 Reverend Emmanuel Nazir Mani is a writer, poet, historian, researcher, translator and a religious philosopher who hails from Bharoke, District Sialkot, in the centre of Pakistan,  a place well-known as a home of many many great Christian Urdu Writers and Poets (several of whom are mentioned throughout this website).  Since 2013 he is  serving as an Anglican Priest  in Portsmouth, England, where he resides with his wife. He is a man of many interests and being a published author and a celebrated poet are but, only, two of the many strings of his proverbial bow of abilities, interests and talents. 
Mani's  spiritual pilgrimage spans years and traverses across denominations. He  studied Catholic theology and was initially ordained a Catholic Priest in  January 2001 (cathedral, Lahore). Following  his ordination  he served first as Assistant Rector, and then as the Rector at the Capuchin Formation House (Capuchin Minor Seminary Lahore). From 2006-8 he served as a co-parish priest at St. Joseph Church in Sialkot. Along with his various priestly, scholarly and social pursuits, between 2008-11 he also  presented Urdu News at Radio Vatican, Rome. He served as a  Professor at St. Mary's Minor Seminary Lahore, where he taught Liturgy, Human Development, Catechism, and History of Religious life. Later, in 2003-4 he taught History of the Church in the inter-congregational Novices program Lahore.
During his very busy priestly and literary career he has enhanced himself by attending many conferences, participating both as an attendee as well as a presenter and a teacher. Between 2002-6 he edited Capuchin Newsletter and  between 2003-8, he served as a Board member of Fortnightly Catholic Naqib, one of the oldest Christian Urdu publications in Pakistan.  His other appointments included  (memberships 2003-8) at the  Board of National Liturgical Commission of Pakistan   and a membership (2002-5) at the Board of Radio Veritas Asia, Lahore, Pakistan.  He was elected a  Member of Economic Commission of Capuchin Order Pakistan,  2003-6 and attended a South East-Asia Pacific Capuchin Conference (SAPCC) held in Philippines on 23rd of October 2000 and a  Youth Leadership Training in Malaysia, 2000.  In 2003 he  attended a workshop developing a strategy for Institutional Reforms and Rehabilitation of Juvenile Prisoners' at Lahore.
Mani has a Bachelor of Arts degree and  a Master of Arts in English Literature form the University of the Punjab, Pakistan. He was latter privileged to complete a  Licentiate in Church History from Gregorian University Rome in 2008-11. He is a very widely read man, a man of letters, in the fullest sense of the term, and in addition to learning from books and travels has years of formational education to his credit. He spent fours years  (1988-1992) in Priestly Formation at Minor Seminary Lahore followed by four years  of theological study at Christ the King Seminary, Karachi.  He then went on to spend another two years reading  Philosophy at Christ the King Seminary. 
Revered Mani has multilingual proficiency in Punjabi, Urdu,  English, Italian and Latin.  His publications include the following:
Aalim aur Darwesh (2000)
Capuchin Mushaheer (2001)
Fakhita raqs kare gi (Urdu poetry 2003 )
Pehli Nazim Muhabbat hay (Urdu poetry 2004)
Sawan Main Phool Khiley (Urdu Poetry 2006)
Fazal Dukhia (Research 2008)  
Licentiate thesis: Belgian Capuchin Mission in Punjab Pakistan 1888-1994 (Academic research completed at Gregorian University Rome, 2011) 
In 2006 he produced a CD as  a poet of liturgical hymns, which was well received among the worshipers and in the same year he was deemed the rightful and deserving recipient of Majlas-e-Faroghe Adab award which he accepted humbly and graciously.
His soon to be published books are:
Divaar pe deep (anthology of  articles)
Dil Darya samandar Ankhen (Urdu Poetry) 
Having met Rev Emmanuel Nazir Mani and having read some of his works, I am very pleased to include him and his contributions on this website as a worthy addition. My assessment of this young priest/scholar/writer/poet/... is that he has a wealth of new ideas  waiting to be expressed. I am sure, with time he shall continue to contribute to the store of of knowledge and shall keep providing us with high class Urdu literature.
© Akhtar Injeeli 12/02/2018
---