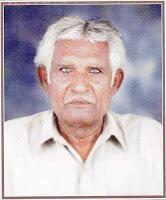 Talib Nasrani* (طالب نصرانی), the poet of Phokay faa'ir (پھوکے فا یِٔر) was a gifted Punjabi poet and undoubtedly a very  deep thinker. His book was published by his son and jan nasheen** Saifi Nasrani (سیفی نصرانی) in 2008, who has also honoured the memory of his father and mentor by establishing the Talib Nasrani Natural Arts Foundation Pakistan. The head office of this cultural organization is located in Lahore.
Having read the book, now nearly a dozen times in quick secession, I am impressed with his very human approach to man's dilemma of pain and suffering and his reasoning and argumentation both first from man's perspective to God and then from God's perspective to man.  This problem of man's yearning to engage with his Creator God is one of the oldest themes in the written philosophical and theological records. In the Holy Bible this theme is eloquently expounded upon in the book of Job, and in the courageous dialogues  recorded between the Old Testament prophets like Isaiah and Jeremiah and Jehovah.  The theme is found  in the Greek writings and more recently in the western literature by poets like Milton and Dante.
In Urdu literature Allama Mohammad Iqbal first earned himself the scorn and anger of the orthodox Islamic establishment in India by writing his famous Shikwa, only to redeem his reputation and claim his place among the top Urdu poets by following it with Jawab-e shikwa.  Phokay faa'ir (پھوکے فا یِٔر ) is man's quest for answers  from a local Christian's perspective, and God's response to him. In my humble opinion the book deserves a place among the great contemporary Punjabi literature. In short this volume is a joy to read and offers lots of intellectual stimulation.
____________________
* The biographical information about Talib Nasrani will be added to this entry hopefully in the near future. 
** Jan nasheen translated into English would roughly equate to "the successor".  
© Akhtar Injeeli 31/01/2013
---